MEET MARY HAYS
Storyteller Laureate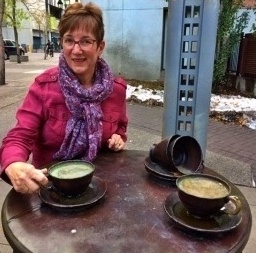 Mary Hays believes that the oral art of storytelling can lead to the creation of deep connections with all people, of all ages. She has put her interest in stories to use as a teacher of storytelling and as a performer. She has a passion for working with groups to delve into the telling of folktales that hold the wisdom of the ages, passed down orally through the generations. By learning to shape and share the story, universal truths are gently revealed to the listener. This is the golden thread that ties the teller to the tale and to the listener. The foundation of the folktale can lead the teller into the discovery and crafting of their own personal, family and historical stories.
Mary is an accomplished teacher of the art of storytelling, a mentor of emerging storytellers and a stage performer. In 2022, Mary was Storyteller in Residence at the Calgary Public Library. In 2020, Storytelling Alberta awarded her the distinction of Storyteller Laureate for long commitment to excellence in storytelling, mentorship and promotion of the art of storytelling. In 2019, Mary co-created the Storytelling Alberta StoryShare Project. This project connects Calgary seniors through creative storytelling, legacy recordings and TimeSlips, an internationally renowned collaborative storytelling program for people with dementia. In 2021 she was a co-artistic director of summer storytelling at Lougheed House Museum offering mentorship, workshops and performance opportunities to tell the story of diverse Calgary communities.
Mary produced the storytelling CDs, "A Collection of TALES" and "TALES on the Wind", which feature Alberta storytellers.
She released a CD of her own stories, "Come Away ... with story, music and song", with Voice Dance from Olds Alberta.
Mary is a published author:
"The Queen and I" from Under the Wide Blue Sky, 2005
"Girl Who Married the Morning Star" from World on a Maple Leaf, 2012
Readers Theatre Scripts, U-Otter Read-it
Contact Mary for your own performance and workshop.
Phone: 403-556-5831
E-Mail: storymary@hotmail.com
How do you begin to tell stories? First, you need a story to tell. I look for stories in books and folktales from around the world. You can also find stories at home. Talk to your family, your elders, and find out their stories. Listen for the stories.

And so, now, for a story ... the Caliph of Baghdad.