MEET MARY HAYS
<!-img src="images/about.jpg" width=259 height=359 border=0 align=right Alt="Mary's presentations include traditional storytelling, readers theatre, puppetry, flannel figures, rhymes, songs, and games. Photo by Carla Victor">Mary is a Calgary-based freelance storyteller and independent consultant for schools, public libraries, performance festivals, museums, parent and community groups.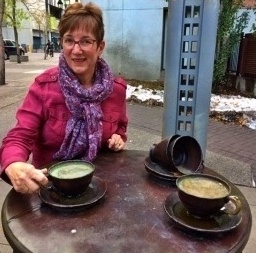 Mary has BEd and completed her Associate Diploma in Speech Arts and Drama from the Mount Royal College Conservatory AMRC and the Royal Conservatory of Toronto ARCT.
Mary completed a Readers Theatre summer course in London, England offered by the University of Southern Maine and the Institute for Readers Theatre of San Diego.
She is a member of Storytellers of Canada and Storytelling Alberta, formerly TALES.
Mary produced the storytelling CDs, "A Collection of TALES" and "TALES on the Wind", which feature Alberta storytellers.
She released a CD of her own stories, "Come Away ... with story, music and song", with Voice Dance from Olds Alberta.
Mary is a published author:
"The Queen and I" from Under the Wide Blue Sky, 2005
"Girl Who Married the Morning Star" from World on a Maple Leaf, 2012
Readers Theatre Scripts, U-Otter Read-it
Contact Mary for your own performance and workshop.
Phone: 403-556-5831
E-Mail: storymary@hotmail.com
How do you begin to tell stories? First, you need a story to tell. I look for stories in books and folktales from around the world. You can also find stories at home. Talk to your family, your elders, and find out their stories. Listen for the stories.

And so, now, for a story ... the Caliph of Baghdad.